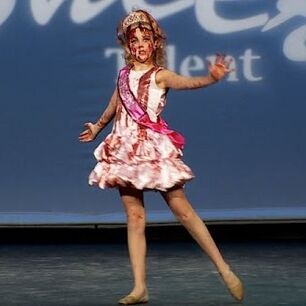 Prom Queen was a dance that JoJo Siwa preform at the Sheer Talent Show in Los Angles, California back in November 15th 2014 in an episode of Dance Moms called "Nia Risk It All". The dance was set to be inspired and tribute to Stephen King's novel,1976 and 2013 remake of the horror film, Carrie.
She later preform the same dance in another episode called "Seeing Stars" back in February 18th 2015.
However Abby Lee Miller did not like her dance performance. stating that "As She Danced She Didn't Take Us On This Emotional Roller Coaster, Probably Because She Never Watched The Movie".