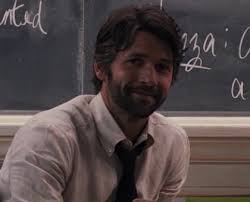 Mr. Ulmann
is a character in
Carrie (2013)
. He is portrayed by Jefferson Brown.             
He was the English teacher at Ewen High School. He often bullied Carrie White under the influence of Tina Blake to the extent, that Tommy Ross intervened to stop him. He was present at the Prom and seen together with Miss Desjardin and Mr. Morton, when Carrie and Tommy were named Prom King and Queen. He clapped for them. However when the pig's blood is dumped on Carrie, he was shocked, When the locker room video played he began chuckling along with Mr. Morton. When Carrie begins her rage he tried to save Tina, but Carrie prevented it by throwing a burning silver moon towards them forcing them to separate. Then she kills Tina, probably having to watch it, too.
He was later electrocuted at the Prom. He is briefly seen as Carrie leaves the gym.