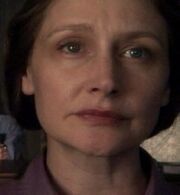 Margaret White in Carrie (2002) was portrayed by Patricia Clarkson.
This Margaret was much calmer than the original, but is still very abusive towards Carrie.When she gets the call, that Carrie had her period, she slaps Carrie at home and drags her into the closet, where she has to pray because of having committed the original sin of becoming a woman. She then throws tea at Carrie's face, when she says, she has been invited to prom in an attempt to stop her from going. It´s then, when Carrie first shows her power by slamming a door in front of her. Margaret calls her a witch, but relents. While Carrie is putting on her make-up, Margaret tells her desperately not to go, but Carrie slides her mother across and out of the room and slams the door. Margaret is seen glaring behind the bushes, when she sees Carrie going with Tommy in a limo. Margaret is seen with her head down in the house while looking at a cross on the wall. It is implied, she has decided to kill her daughter to "free her of Satan". When Carrie comes home, not knowing what happened, Margaret attempts to drown her correspondingly. Carrie then, with her last strength, stops her heart, killing her. She survives the attempted murder, but only barely, thanks to Sue who enters the house, finds her and manages to revive her.
After the events Carrie visits her grave for the first and last time and before she goes with Sue to Florida. Her memory about what happened will haunt her for the rest of her life.